Best Western Primrose Hotel - Toronto
43.66227099675719

,

-79.37708504498005
102US$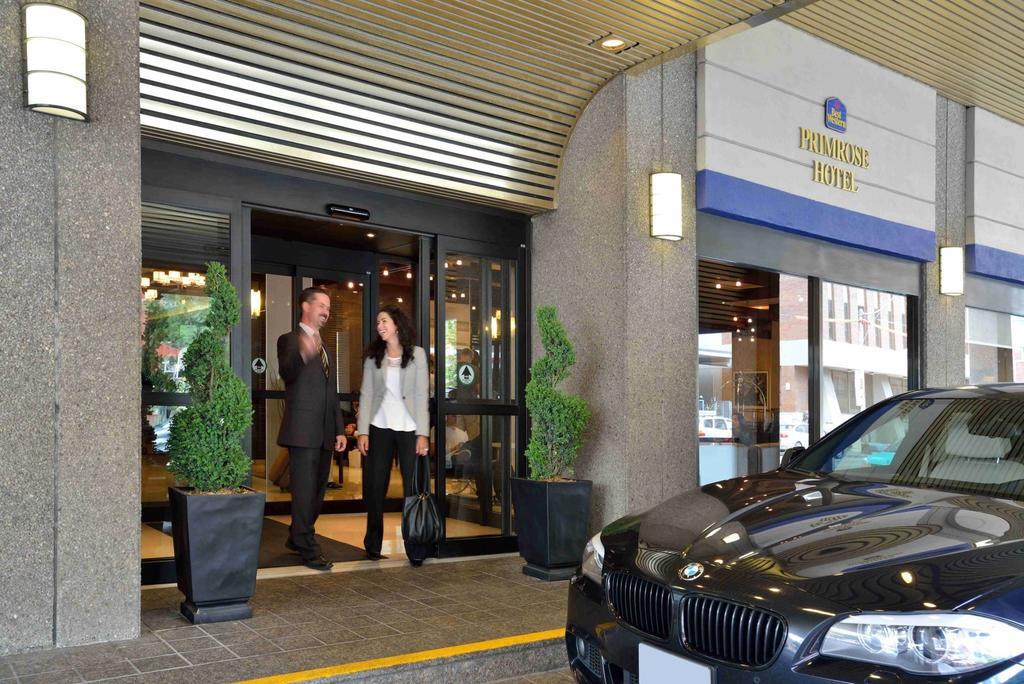 Highlights
Hotel Awards
According to guest reviews, the hotel has been rated as 
Use Badge
Address
111 Carlton Street
,
Toronto
,
Canada
,
M5B 2G3
, Ontario
Overview
The 3-star Best Western Primrose Hotel Downtown is situated in the center of Toronto, a mere 0.9 miles from a hot shopping spot like the long-standing multilevel urban mall "CF Toronto Eaton Centre". Guests will have access to a private parking lot onsite for added convenience.
Location
Staying in the budget hotel, you are invited to discover the most-visited Royal Ontario Museum, located 1.2 miles away, or visit sports venues like the multi-purpose stadium "Rogers Centre", which is 10 minutes away by car. Harbourfront Centre Cultural Center is just a short walk away from The Western Primrose Hotel Downtown, while Cineplex Cinemas Yonge-Dundas and VIP and Allan Gardens Conservatory are both nearby. The hotel is located in the The Village district, a few steps from gardens. The best historical sights to visit here include Casa Loma Castle, situated 2.1 miles away from Best Western Primrose Hotel Downtown.
Toronto Union train station is around 1.5 miles away, and College metro station is approximately a 10-minute walk away.
Rooms
Guests can also use showers along with amenities like dryers.
Eat & Drink
Guests can enjoy their morning meal in the restaurant. The private bar is also available. The accommodation is set a few steps away from the bar Hair of the Dog Restaurant & Pub.
A buffet breakfast is served and charges are applicable. 
Internet
Wireless internet is available in the entire hotel for free.
Guest Parking
Private parking is possible on site at CAD 24 per day.
Year renovated:   2010.  Number of floors:   23.  Number of rooms:   335.
Former name: Best Western Primrose Hotel Downtown
Facilities
Most popular facilities
Food/ Drinks
Bar/ Lounge area
Restaurant
General
Wi-Fi
Food/ Drinks
Swimming pool
Elevator
Air conditioning
Dining
Restaurant
Bar/ Lounge area
Good to know
Check-in
from 5.59 pm
FREE
Check-out
until 12 pm
FREE
Children & extra beds
All children
0 - 16 years
Existing beds
FREE
Extra bed
c$ 10
Children above
16 years or adults
Extra bed
c$ 10
Maximum capacity of extra beds in a room is 1. 
Pets
Pets are not allowed.
Location
111 Carlton Street
,
Toronto
,
Canada
,
M5B 2G3
, Ontario
City landmarks
Nearby
Restaurants
Shopping Area
CF Toronto Eaton Centre
4600 ft
Museum
Royal Ontario Museum
1.2 mi
Market
St. Lawrence Market
1.0 mi
Aquarium
Ripley's Aquarium of Canada
1.7 mi
Square
Nathan Phillips Square
1.0 mi
Stadium
Hockey Hall of Fame
1.3 mi
9 Trinity St
Distillery historic district
1.6 mi
Gallery
Art Gallery of Ontario
1.3 mi
235 Queens Quay W at Lower Simcoe St.
Harbourfront Centre
1.5 mi
Square
Yonge-Dundas Square
3500 ft
Library
Toronto Public Library
1.0 mi
Museum
Mac Kenzie House Historic
3300 ft
Public Building
Ontario Legislative Building
5200 ft
Church
St Michael's Cathedral Basilica
3600 ft
Night club
Buddies in Bad Times Theatre
2200 ft
Museum
George R. Gardiner Museum of Ceramic Art
1.2 mi
Gallery
Ryerson Image Centre
1200 ft
Restaurant
Golden Diner Family Restaurant
300 ft
Restaurant
Fran's Restaurant and Bar
2000 ft
Restaurant
Ho Jan Chinese Restaurant
1000 ft
Restaurant
Pizzaiolo Gourmet Pizza
1400 ft
Restaurant
North of Brooklyn Pizzeria
1600 ft
Restaurant
Indian Roti House
1600 ft
Restaurant
Chew Chew's Diner
1400 ft
Restaurant
Salad King Restaurant
2100 ft
Getting around
Airports
Billy Bishop Toronto City

(YTZ)
3.3 mi
You can book a shuttle, once your reservation is complete.
Reviews
John

Pleasant room, yonge dundas square is nearby and there is private parking. In general the service was quality. Want to say thanks a lot for enjoyable stay😀

missing

I had a great stay and lots of fun. Staff was wonderful, the room was perfect and the view was excellent.

Underground parking was alittle scary for me but I wasn't the one driving.

missing

I liked the location and the cost

missing

All the staff were extremely friendly and efficient.

I'm a smoker and had actually booked with this hotel with the thought they had some designated smoking rooms and I was not in a smoking room.

missing

The room was spacious and quiet - the bathroom though on the smaller side - absolutely clean and tidy.

missing

price

I would like later check out times.

missing

The staff and the price

I stay there about once a week so I don't like how the bump up the price for a regular guest

missing

Close to my conference and workshop....and the points associated with my stay re: BW Gold Club

Availability of daily newspaper other than National..

missing

the staff was so nice and they asked me if i enjoyed my stay and i did. if i had a concern about something they helped me out as much as they can. i would be coming back to this hotel more often.

missing

Convenience , cleanliness , easy parking

missing

The hotel staff was great. It has everything you could need in walking distance. The room was very clean and cozy .

it is a bit on the pricey side for that type of room.

missing

Felt that the hotel was starting to look and feel old with its standard of decoration and maintenance in the room Although a small kitchenette was part of the room as there were NO utensils plates etc provided this was worse than useless with the single exception of the refrigerator

missing

The room was extremely neat and tidy upon arrival, and me and my boyfriend enjoyed it's coziness.

The hotel manager displayed the worst customer service I have ever experienced in my life, as I tried to reason with him that my room was charged for a movie that I never ordered. No one was even in the room at the time, yet I was charged for no reason and nothing was done about it.

missing

Location

Very Dated rooms, loud bathroom fans, smell of cigarettes. in the room. Dining room had dirty chairs

missing

The rooms look made-up quite nicely with the fresh bedboards and throws.

The pillows - they're all too thick!
FAQ
How far is the city center from the Best Western Primrose?
The Best Western Primrose is located in The Village district in the center of Toronto.
What landmarks can I find in vicinity of Western Primrose?
During the stay at Western Primrose guests can visit St. Lawrence Public Market (1 miles), the shopping mall "College Park" (0.2 miles) as well as the indoor Scotiabank Arena (1.5 miles) among others.
What popular attractions are the closest to the 3-star Best Western Primrose Toronto?
The closest landmarks to the 3-star Best Western Primrose Toronto include Cineplex Cinemas Yonge-Dundas and VIP (0.3 miles), Jarvis Street Baptist Church (0.4 miles) and Allan Gardens Conservatory, accessible with a 5-minute walk.
Is there parking at the Best Western Primrose?
Yes, the Best Western Primrose features a private car parking available onsite.
How much is a room at the Toronto hotel?
The price of staying at the Toronto hotel is $14 cheaper than $116, which is the average price for a night's stay in 3-star hotels of The Village district.
Which amenities are included in the rooms of the Toronto hotel?
Some rooms of the Toronto hotel welcome guests with a coffeemaker and an iron.